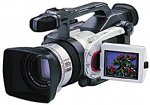 How To Make Your Own Homemade Video
---
by
Victoria Ring
Back in September of 1997, I produced my own video entitled "How to Design Your Own Website." But since I didn't know what I was doing, this video ended up costing me $1,400 to produce. So believe me, the information in this article is written by someone who has first-hand knowledge of what "not" to do and the wisdom to tell you how to do it properly.
So sit back, relax and allow me to tell you how simple it is to create your own homemade video for a total out-of-pocket cost of only $50.
A homemade video is a video that shows real people behaving like real people. It's the same thing as filming a home movie of your family at Christmas time, only the video you make to sell as your product will be about a topic of interest to others. A homemade video is not some fancy production will all kinds of dazzling graphics. Instead, a homemade video is simply setting up the camcorder and filming you or you and your friend performing a task or explaining how to do something.
For instance, if you publish an adsheet or tabloid, make a video about how to properly paste-up ads and how to process orders. If you are a printer, make a video about the printing process. If you are a distributor for a good program, make a video explaining about the program and your first-hand knowledge of it. If you do direct mail marketing, make a video about how to collate, staple and fold your mailings. End the video with a shot of you delivering the mail to the post office. You could even make a video about how to set up a small office and show people how to do it. There are literally 1,000's of topics that you could cover and everyone knows something about something.
After you have chosen a topic to make your video about, write down a list of things you want to cover in the video. This will become your movie script. You can tape it on the wall and follow it as you are filming your video. This way, you will always have something to talk about and the video will keep the viewer watching. And don't be worried if you make a mistake. Mistakes are what makes your video come across as a homemade product. Besides, having a "homemade" video versus a "professional" video is a great selling point. I personally would prefer to buy a homemade video over a professional one if I wanted to learn about small home business from the actual people who lived the life.
To film your video, simply turn on your camcorder and start filming. It would be best to have a friend or relative do the filming so they can zoom in when you are demonstrating how to do something. But if you don't have anyone to help you, sit the camcorder on a table or tripod and film the video yourself.
You also will probably want to make some title cards with your laser or inkjet printer that tells the name of your video as well as a title card with your name and contact information to use at the end of the video. Just aim your camcorder and film the title card.
Now it's time to take your video and have it copied to a CD-Rom. Why CD-Rom and not another video tape? Because if you don't have a super-8 camcorder (which most people don't) and you try to make copies of a regular video onto blank video tape, your video tape will lose 50% or more of the quality and appear washed out and faded. Besides, videos are heavier and cost more to mail to your customers and take up a lot of space in your office if you are stocking an amount to use in filling your orders.
But having your video copied onto a CD-Rom is cheap. CD's also are light and cost less than $1 in postage to mail -- plus they don't take up much room in your office. In addition, copying a common video tape onto a CD will retain 100% of the video quality and you will have a good product that will sell well.
There is only one thing to keep in mind and that is the length of your video. Each one hour video equals one CD-Rom, so don't go over this one hour limit unless you want to break up your video onto more than one CD and sell a 2,3 or 4-CD set at a higher price.
Sources for Converting Videos to CD-Roms
There are several companies that will take your homemade video and place it on a CD-Rom for you. One is YesVideo (http://www.yesvideo.com) and another is CD Video Maker (http://www.cdvideomaker.com). Both companies charge less than $50 for this service.
Once you have your video converted to CD-Rom, you need to have your CD copied so you can sell it to your customers. There are 100's of places on the internet that provide this service, but two I know of are Dub-It (http://www.dub-it.com/) and CD-Rom-Works (http://www.cd-rom-works.com). Current prices for 1,000 are 79¢ per CD-Rom.
You now have two choices of how you want to package your product. The company who copied your CD-Roms also provide a service where they will put the labels on your CDs, place them in a jewel case and insert the covers, so all you have to do is mail the CD when a customer orders it.
Or, you can put your own CD labels on the CD-Rom yourself and save a bunch of money. Blank CD-Rom labels and empty jewel cases can be purchased at any office supply store for a very low price. For example, I paid $27.00 for enough supplies to make 100 CD-Rom's.
Here we are at the bottom line. What is it truly going to cost in out-of-pocket expense to produce your own video CD, ready to sell?
Production Costs: Filming the Video $0.00 Convert Video to CD $50.00 Initial Start-Up Cost $50.00 Overhead Cost Per CD-Rom: Copies of CD-Rom 79¢ Label/Jewel Case 27¢ Cardboard Mailer 39¢ Postage 80¢ Overhead Production Cost $2.25 You Sell For $14.95 You Make (for each CD) $12.70
After you have made your video, one of the best benefits is that all of the hard work is now behind you. Now, all you do when an order comes in for your video is pick up a CD-Rom, place it in a mailer, place a label on the outside and mail it to your customer. When you run out of CD's, you simply order more from the company who made the copies for you.
I sincerely hope this article inspires you to create your own product. If it does, go to my website and get my current address information. Mail me a copy of your finished video and I will list it free on my website so my customers can order directly from you.
About the Author
This report is written by Victoria Ring. If you would like to comment on her article, please feel free to contact her directly through her website at http://www.victoriaring.com
Tell others about
this page:
facebook
twitter
reddit
google+
---
---
Comments? Questions? Email Here