Painting Address Numbers on Curbs for Extra Cash
---
by Ted Ballinger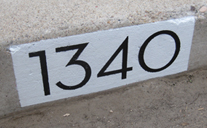 So you want to earn some extra cash?! You don't need to pay for anything but paint, stencils, and gas (or bus fare).
I'm going to tell some of the secrets I know about the curb painting business.
FIRST GET A CITY PERMIT! Don't Break The Law!

Find a area that needs the addresses repainted.

Go to the first door and tell them you are in the neighborhood repainting the addresses on the curb.

If the person is interested they will ask how much. You say the cost is ONLY 10.00 (or higher) and we wire brush the surface to remove all old paint, and dirt. Then we mask off a white background with 4" black numbers. Also, let them know that you do have a permit on file with city.

If they say no, don't take the first NO! Tell them that they are good to have if there is a emergency, and that theirs has worn off. Most people will say ok, and then you can get started right away.

Put your white background on, and while its drying go to house across the street, and say the same thing but now point to the one your doing across the street, most people will get it if they see someone else is getting theirs done.
I do from 10 to twenty addresses a day when I do work using this method. If you would like a curb painting kit with stencil's, and more instructions on what you need to make money curb painting email ted@CurbPainting.com with (Curb Stencil's) in subject line for more info.
Good luck out there.
Tell others about
this page:
facebook
twitter
reddit
google+
---
---
Comments? Questions? Email Here